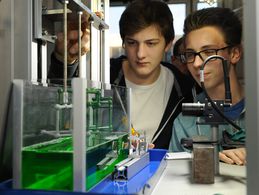 TEEN SPIRIT FOR SPACE (04.10.2018)
On the occasion of the International Astronautical Congress we are organizing the "Teen Spirit for Space" School Student Congress on October 4, 2018. Students are given the opportunity to present their own exciting research projects or ideas to a broad audience.The student congress will be held in German at the ZARM booth in the Exhibition Hall. Interested IAC delegates are invited to listen and ask questions.
Supported by the German Aerospace Center (DLR).
All information in German can be found here.
CONTACT
Ertan Göklü
+49 421 218 57944
Martina Gebbe
+49 421 218 57949
Annika Teubner
+49 421 218 57821